About Himouto! Umaru-chan | Rules | Recent Changes

Himouto! Umaru-chan Wiki is a community site about the Himouto! Umaru-chan series.
Anyone can contribute to the wiki as long as it improves or adds authentic information to the articles.
Discover, share, and add your knowledge!
---
Episode 09 - "Umaru and Valentine's"

Kirie makes some cookies to give to Umaru, while Umaru and Taihei help Nana make some Valentine's chocolates, oblivious of who she wants to give them to. Later, Umaru and Sylphynford go to an anime shop together, bonding over their roles as little sisters who love anime. Afterwards, Taihei has to try and converse with Kirie while waiting for Umaru to come home, before trying to solve the mystery of who ate Umaru's pudding overnight.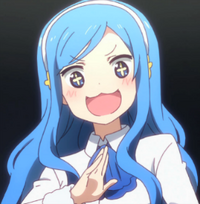 Sylphynford Tachibana (橘・シルフィンフォード, Tachibana Shirufinfōdo) is the self-proclaimed rival and classmate of Umaru in

Himouto Umaru-chan

. She is as popular as Umaru and comes from a rich family. She is highly competitive and loves attention. She constantly states that Umaru is her rival that she must beat, but always comes second to.